It's been said that the only things certain in life are death and taxes, but in the case of a South African musician death may not be so certain after all. Apparently not even the grave could hold this talented artist. From The Guardian:
The South African music scene has been rocked by the claim that a Zulu singer has returned from the dead. Police are investigating a man who says he is Khulekani Mgqumeni "Kwakhe" Khumalo, one of the best known figures in traditional maskandi music, who died in December 2009.



"It really is him," Khumalo's grandmother, Zintombi Mseleku, told South Africa's Sunday Tribune. Mseleku is one of several relatives - including the singer's daughter and two common-law wives - who insist the man who appeared on 29 January is the person they laid to rest two years ago, at a funeral attended by many local politicians and journalists. "There is no way I can get confused over Kwakhe," Mseleku said. "He is looking a little worn, and his cheeks are less chubby, but it's him."



Perhaps not surprisingly many local officials are begging to differ. The article continues:
Officials are less convinced. The purported Khumalo was arrested on Monday and questioned by police. They have taken fingerprints and DNA samples; test results are due later this week. If the man's DNA matches the material on file, officials are expected to exhume the musician's body. Otherwise, he may be charged with fraud

.



Not content with simply keeping him for his musical ability, Khumolo told curious onlookers that had gathered at his house that he was to be turned into a Tokoloshe. Which, according to Bantu and Zulu traditions, is a dwarf like water sprite that is said to be quite mischievous in its behavior.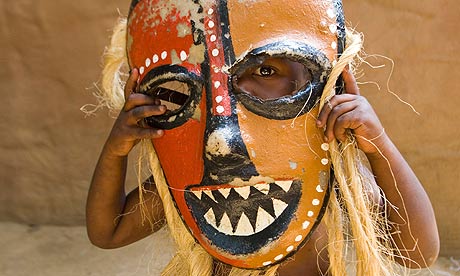 Tokoloshe mask (from the Guardian article)

Personally I'm going to file this one under the "interesting if true" category. Follow this link to read the rest of the article. South Africa has a rich culture of supernatural beliefs which seem to make Khumalo's story a bit more easier to swallow. Honestly if you are interested in learning more about their beliefs I suggest you check out this site. I found it to be pretty informative. In the end, I suppose we will have to await DNA testing to prove that this musician has found a way to conquer death. Or if a fairly clever con-artist has a found a new scheme.